www.engineering-thailand.com
Written on Modified on
Thanks to the SHDSL transmission technology, Westermo's DDW-120 Ethernet extender allows existing twisted pair cables to be used to establish a high-speed remote connection between two Ethernet networks. With transfer rates up to 5.7 Mbits/s and an operating distance of up to 15 kilometres at lower data rates, this is an easy-to-install alternative to fibre optic or radio systems when linking remote Ethernet networks. Further, the DDW-120 employs a transient blocking unit on each line interface to provide both over-current and over-voltage protection thus allowing the line to handle indirect lightning strike transients, power induction and short circuit problems.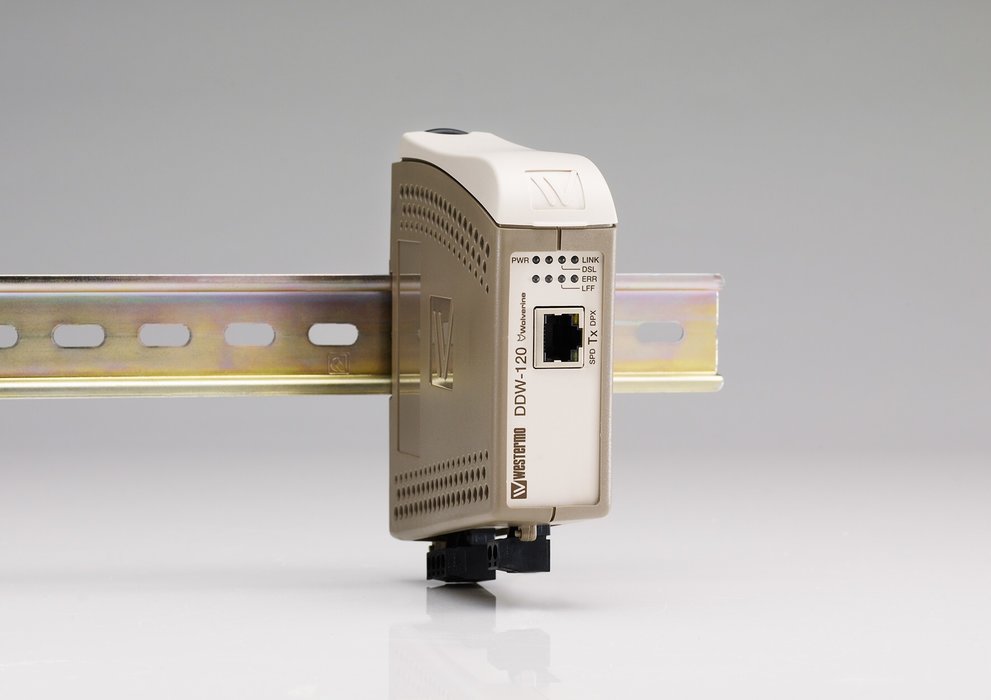 By design, a standard Ethernet network is limited to a 100m distance for point-to-point transmissions over copper cables. For greater distances, standard UTP Ethernet cables can not be used. To create a high-speed link between two distant Ethernet networks, an extender is necessary. The DDW-120 uses twisted pair cables rather than expensive optical fibres or radio links. This ''Plug-and-Play'' unit covers many applications offering data rates from 192 Kbit/s to 5.7 Mbit/s in both directions over distances of up to 15 Km (railway signalling, on board or on track, tunnels, highways, harbours, power stations, extended industrial plants, etc.).
The Link Fault Forward (LFF) functionality in DDW-120 forwards information about the Ethernet link status, this is sent over the SHDSL link between two DDW-120 units. In many applications it is a requirement to disconnect the link on the other side of the SHDSL link if the primary Ethernet link goes down. The LFF function uses bits in the SHDSL overhead frame and does not affect the data bandwidth. The opposite unit then reads the bits and the link status will be changed depending on the received status information. The user can see the LFF status on the LED's in the front of the unit.
Easy configuration and diagnostics

Installation and configuration of the DDW-120 are very simple: No software configuration is required to make the units operational. When long or poor cabling is used, some settings can be adjusted via DIP-switches for optimised performance while the unit is also supplied with an advanced diagnostic utility that allows the installer to analyse the quality of the line and the connection status (requires diagnostic cable).
High reliability for harsh industrial environments
The units are well prepared for use in harsh industrial environments. Total galvanic isolation and transient protection are standard for all interfaces. The line interfaces are also equipped with extensive protection against over-voltages and transients. The DIN-mounted case makes the unit robust and allows for the surrounding air temperature to be between –40 to 70°C. To allow for uninterrupted communication the units are equipped with redundant power inputs that enable the use of two separate supplies with an operating voltage range of 10 – 60 VDC.
DDW-120 is transparent for multicast addressing, VLAN packet and allows VPN pass-through for IPSec. It can also be used with protocols like MODBUS/TCP and Profi net IO. The units will auto-negotiate the transmission speed but can also be forced to choose a slower (more reliable) or faster (less reliable) data rate. DDW-120 can be used in point-to-point applications or as a start or termination unit together with the DDW-220/221/222 in daisy-chain applications.
Contact:
Bo jansson
This email address is being protected from spambots. You need JavaScript enabled to view it.
Tel: +46 (0)16 42 80 00
www.westermo.com