www.engineering-thailand.com
Written on Modified on
DACO Solutions, the UK based manufacturer of finishing machinery for the converting industry, has a clear machine development philosophy: keep it simple and adhere exactly to the customer's specified needs. Employing this direct approach enables DACO to provide cost-effective and very easy-to-use solutions, essential components of which are the MEROBEL range of web tension control equipment. From the simplest to most advanced machine MEROBEL products are integral to the machines success.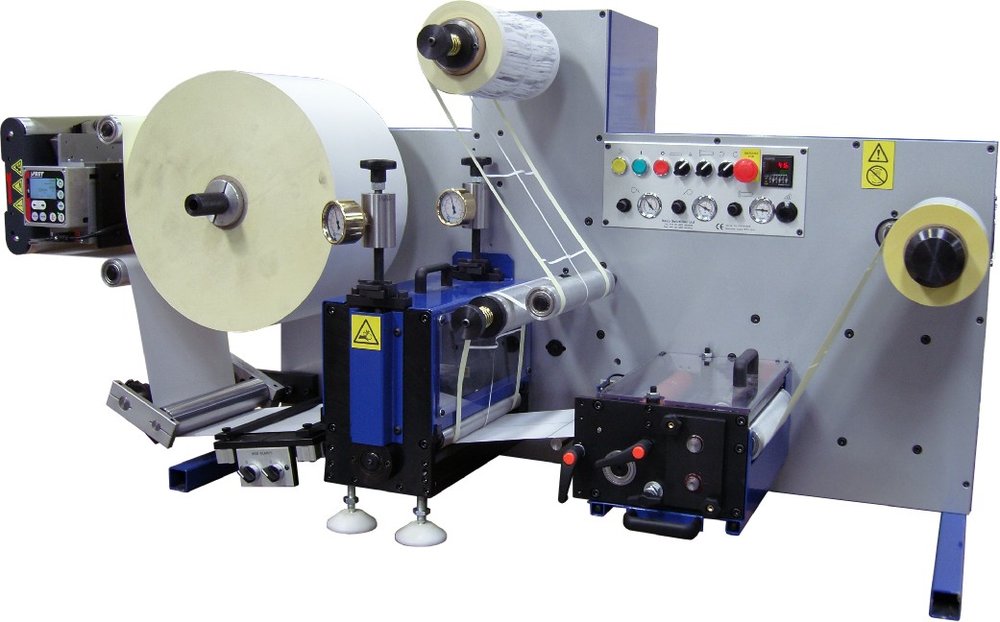 Daco Solutions are a leading UK manufacturer of innovative slitter rewinder machinery, inspection rewinders, rotary die cutters and converting equipment to the narrow web, label printing and converting industries. Its offering of slitter rewinder machinery and rotary die cutting equipment ranges from entry level machinery to high speed, high volume equipment as well as providing customised solutions.

Boasting in house teams of designers, project managers, machine shop, electronic technicians, assembly and installation, Daco Solutions has been using MEROBEL Electromagnetic Brakes for 10 years. "Analysing the different options, on the market, I would say that it is the best solution", explains Dave Beynon of Daco Solutions. "Pneumatic brakes may be an option, but are less linear with a lot more wearing parts. Furthermore, there is the additional risk of leakage". Pneumatic brakes feature a torque ratio from 1 to 30max, compared to an Electromagnetic Brake offering a braking range from 1 to 100. For this reason, several pneumatic braking disks may be necessary.

"Other suppliers of electromagnetic brakes are not acceptable to me. Either their reliability is not good enough, they are too complex to implement or are overly expensive. Of the 200 machines we have delivered over the last 10 years, we have had less than 5 problems. The best thing about MEROBEL brakes, is you install them and forget about them".

MEROBEL EMP brakes apply a controlled torque to the web shaft to maintain constant tension during winding or unwinding. The EMP technology is both extremely reliable (very long, maintenance free service life) and often simpler to integrate than friction systems, as well as being more economical and much easier for users to control than motor & drive based systems. This reliability results from numerous technological improvements: innovative surface treatment especially formulated to limit wear, special steels chosen to incorporate optimised magnetic properties, ball bearings selected to resist high temperatures. The residual torque has been considerably reduced and magnetic circuits optimised to greatly increase the linear operating range. EMP brakes and clutches are clean and produce no dust during use.

A few hours to implement a brand new electronic control system
In May 2010, Daco Solutions will deliver a vinyl Die Cutting Machine. "We had to consider a closed loop electronic control system, because the backing that the vinyl is on is much more flexible than paper and the conventional system wouldn't have been accurate enough as the product is also sprocket punched for use in sign making equipment. Tension control is paramount to the success of the project as the pitch of the sprocket hole can change if tension is not constant throughout the production run. We have chosen the DGT300, and it really suits our needs: The software is extremely user-friendly and the complete system with load cell was provided by ANDANTEX LTD, the UK subsidiary of MEROBEL. It was just a couple of hours to run the first tests!

This machine is the adaptation of the Daco DTD 250 bench top rotary die cutter, a cost effective solution with a production speed of 150m/minute. The rotary die cutter is available with either one or two rotary die stations, rotary slitting and independent tension control for the unwind and rewind. The rotary die cutter can also be used as a slitter rewinder for the finishing of pre-printed labels by removing the rotary die.

The DGT 300 digital control regulates web tension no matter what the constraints: product elasticity, coil inertia, cyclic operation, big variations in diameter or roundness, etc. Their extensive multipurpose capabilities ensure control in open loop as well as closed loop regulation applications. With a user friendly Windows PC interface or the front panel keyboard, the DGT300 allows the definition of all application parameters required to start a web tension control system: emergency stop proportional to the set point, smooth start-up, freewheel and blocking modes, taper tension and flying splice web replacement. Numerous regulation mode optimisation functions are also available such as variable PID coefficients, open loop + closed loop, inertia compensation, and also a special algorithm for use with motors, where applicable.