www.engineering-thailand.com
Written on Modified on
With a marking speed of 2.4m/s, the new LS100 Ex has a 60% higher performance than the previous solution. With laser powers ranging from 30W to 80W, it is the ideal solution for a host of applications including part marking, trophies, gifts, leather goods, crystal and glassware, signage, photo marking and rubber stamp production.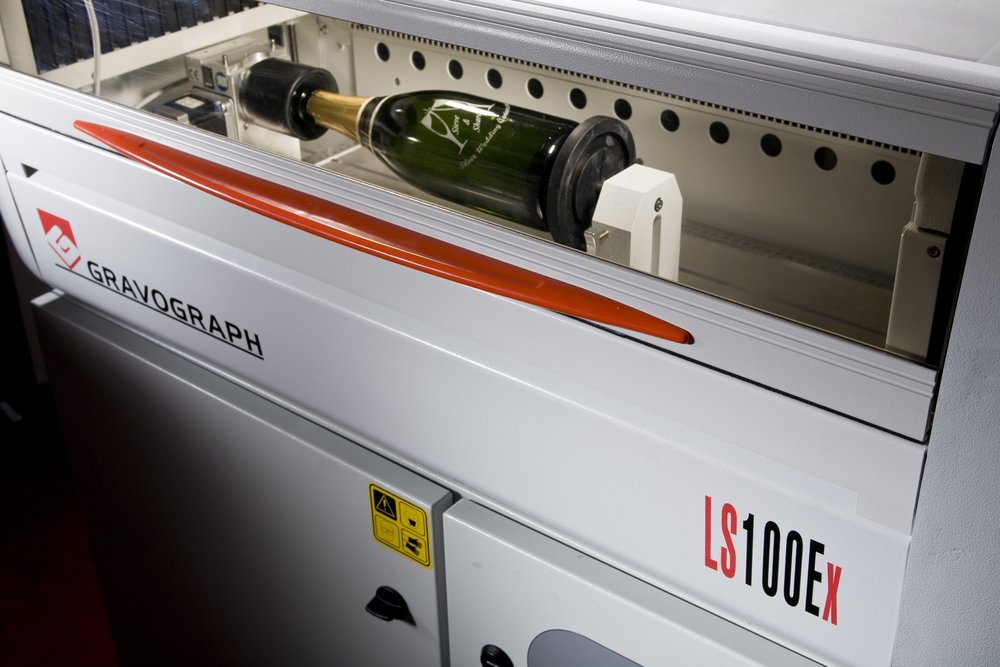 The LS100 Ex increases productivity of marking, engraving and cutting on various materials such as plastics, wood, acrylic, metals, glass, leather and rubber. All the mechanical components have been redesigned by Gravograph to ensure a 2.4m/s marking speed for most applications, even those using Plexiglass and wooden plaques.
At higher powers, cutting plexiglass, wood engraving and Thermark metal marking applications become more practical.
The compact LS100 Ex is equipped with innovations that increase productivity and ergonomic benefits for the user. It has a working area of 24" x 12" which is a good size for marking full sheet materials (which are usually delivered in that format). Its LCD screen can be angled, making it visible from either a standing or sitting position. It provides up-to-date information at a glance, and can also give data on previous jobs, running times, etc. A self-contained work light illuminates the job in progress, and a red-pointer laser beam ensures a quick, error-free set up. All moving elements are covered too (to protect them from dust). Finally, the fume and dust exhaust together with the air assist, improve the processing of materials such as rubber, leather and acrylic.
Most laser machines on the market have a hinged door mounted horizontally on top of the machine – so the user must stand to see what is being engraved (and to load, or unload pieces). The Gravograph machine has an L-shaped profile that incorporates the front cover into the top, allowing the user to easily see what the laser is doing –both from above and from the front – as well as ensuring a CDRH Class 2a safety level. This design also makes installing and using the cylindrical engraving fixture much easier. The user can conveniently load the laser from a sitting position – a real bonus when producing multiple small items like pens or trophy plates (which need to be loaded every few seconds).

Optional equipment for the LS100 Ex includes an integrated exhaust, called the LE150HP (Laser Exhaust 150 High Power). This exhaust is suitable for high particulate, high odour applications such as when working with rubber, wood and acrylic. Fully integrated, it forms part of the base of the laser to ensure a compact system. A clean air exhaust also extends the life span of important parts of the machine. A vacuum table accessory which uses exhaust system airflow, allows the use of very thin material (plastic, metal sheets, etc.)
Included in the package is Laserstyle 5 software – an intuitive interface that simplifies job creation (including text, logos and images). The software is specific to laser engraving, and is designed by engravers. It does not include many of the peripheral 'extras' that many software programs like to include – yet are never used by professional engravers. The LS100 Ex software can control the entire process, including turning the air assist on and off. It can also reset the starting point from the upper left hand corner to the centre of the table, allowing the user to engrave deep areas such as bowls and serving trays. Furthermore, it records and saves settings along with the job – proving valuable for future use. It uses the operating system: Windows 2000, XP or Vista.
A number of optional accessories are available to optimize the LS100 Ex's performance including: cylindrical attachments, vector-cutting tables, a full range of lenses and vacuum tables.